By the way… any links on this page that lead to products on Amazon and other companies are affiliate links and I earn a commission if you make a purchase. Thanks in advance for your support!
Have you filled your garage full of stuff, like us, and now need somewhere to put your vehicle? Time to think about a carport in front of a garage. We took a closer look at the possibility of erecting a carport in front of a garage to see what's involved. We found there were some things that had to be factored in – don't do anything until you've read our findings, below.
Yes, you can put a carport in front of a garage, but you'll need to consider some key factors that will mean the difference between success and failure. These factors include permits and building codes, design, materials, ground slab, and not least of all, the weather, which will determine how strong and secure you should make it.
Whilst we're looking at putting a carport in front of a garage, you may also be interested in our article on erecting a carport attached to a garage, which includes carports on the side of garages.
What is a Carport?
According to Wikipedia "A carport is a covered structure used to offer limited protection to vehicles, primarily cars, from rain and snow. The structure can either be free-standing or attached to a wall. Unlike most structures, a carport does not have four walls and usually has one or two. Carports offer less protection than garages but allow for more ventilation."
Permanent carports are usually made of metal or wood, with a shingle or tile roof or a roof made from sheet metal. In addition, there are different kits available, many of which are temporary and portable in nature made of tubular steel or an aluminum frame with a polyethylene cover. Check out our buyers' guide to heavy-duty portable carports.
Carports are usually built where they are easy to access by vehicles, such as the driveway, so they tend to be built with a hard base, such as concrete or gravel, or pavers. 
What is the Point of a Carport?
If you already have a garage to house your car or cars, you may well ask what is the point of a carport, and in particular a carport in front of a garage. Carports are used for many purposes in addition to sheltering your car. Apart from a boat or RV shelter, a carport could be used for outside covered play, to store equipment, and even to house home gyms.
If you're anything like us, you'll need extra covered storage space, as this is always at a premium in a busy home. In fact, most garages are used for storage, play, or workshop use, rather than a car shelter, so the addition of a carport could provide much-needed cover for your car during inclement weather.
How Much is a Carport?
The costs of a carport will depend on its style, location – if it's attached to the house or garage or is freestanding – and the materials from which it is built. Fixr.com estimates that the average cost of building a metal carport is $8,440 (a wooden carport is slightly cheaper).
At the other end of the scale,  you could buy a portable carport kit, that could set you back as little as $250 and a little time.
How Do I Add a Carport in Front of a Garage?
You could add a carport in front of your garage in a number of ways. It could be attached or freestanding, depending on how you want to use it, and the practicality of attaching it.
If you are at the stage of designing your home and garage, a simple carport solution in front of the garage is to cantilever or extend the garage's roof, beyond the garage door. Depending on the design of the garage roof, this may or may not require supports for the carport.
Even if you are adding the carport at a later date, an extension to the garage roof could be simply achieved.
Whichever approach is taken, a firm base, such as a concrete or asphalt pad, would be a desirable addition. For a typical carport, a 2 1/2 inch reinforced pad should suffice, with 2 feet footings where the supports are secured (if the carport is higher than 10 ft – say to house an RV – or the carport is situated in a very windy or snow prone area, 3 feet may be advisable).
If there's a possibility that you may want to convert your carport to a garage at some time in the future (see below), you may want to think ahead and include deeper footings around the perimeter of the concrete slab.
Alternatively, vertical supports can be secured to a concrete base by right-angle brackets. This provides less lateral support to the carport, so corner bracing may be required to the junctions of the vertical supports with its roof.
A detached carport would be a much simpler challenge, however. These can be obtained in metal and wood for a more permanent construction, or in kit form in heavy-duty portable carports that can be erected by 2 people in a matter of a few hours.
These can be dismantled if you move home. However, you will probably need to augment the tie-down provisions that come with these kits; this can be done in a number of ways, such as bolting the upright supports to the concrete base, weighting the carport with concrete blocks or buckets filled with concrete, and steel cables secured to long ground stakes.
What Type of Carport Can I Build in Front of a Garage?
There is a wide variety of carport types. The one you choose will depend on your budget, how permanent it is to be, the extent to which the carport's design is to complement your home, and where the garage is in relation to your home. 
Detached garages will call for a different carport solution to those that are attached to your home. In this circumstance, you won't have the carport wall dilemma as you'll be able to use one of the house walls as a side for the carport.
Things to bear in mind include whether you'll need a permit to build a carport (see below) – you may, for example, have to rethink it if the carport will be forward of your home's front building line. This may limit the size of the structure.
You could also consider a carport with storage. This could be in the form of a small storage shed at one end, or if the carport in front of a garage is also adjacent to the house, there may be an opportunity to build storage against the house wall.
Also, consider how the carport's design and finish will fit in with your home, both in terms of materials and colors. Remember a carport will either add to your home's value or detract from it (see below). A chic carport idea could rocket your home's attraction.
What Size of Carport do I Need?
A single carport for a mid-size car should be no less than 16 feet long, by 10 feet wide. In any case, design-wise it would be better to match the width of the carport with the width of your garage, which may be wider.
A standard double garage is 16 feet wide so it would be wise to plan on constructing a two-car carport to match this dimension (though it could be slightly narrower as there are no sidewalls in the carport). Of course, your two-car carport may be required to shelter large SUVs, so you'll have to take that into account in your carport plans.
For a large recreational vehicle, you may want to consider a carport 18 feet wide x 46 feet long x 12 feet sides with a 15 feet 6-inch peak height.
Whatever size is best for you, however, you'll be limited by the yard area in front of your garage, and your property lines (see permit requirements below). A single carport is all you may be able to fit in.
Carport in Front of Garage Ideas
Whether you're looking for a chic carport idea that will enhance the appearance of your home or a carport design that provides a functional industrial-style carport for your car, boat, or RV, there's a huge range of designs that should match any needs.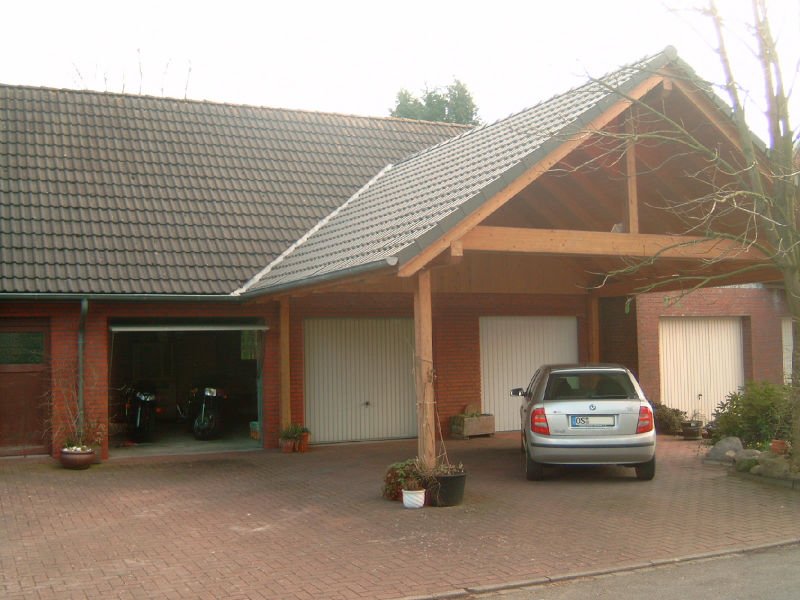 Does a Carport in Front of a Garage Add Value?
Yes, adding a carport will increase home value. The US Census Bureau suggests that the median value of a home with a carport is $10,000 more than a home without. The exact amount will depend on the size and quality of the carport.
Bear in mind a poor quality or poorly maintained carport may detract from a home's value.
Find out more about how a carport in front of a garage will affect your home's value, here.
Can You Turn a Carport into a Garage? 
Yes, you can turn your carport into a garage. You will need to identify any permits and building codes applications required, ensure the roof, frame, footings and the slab are adequate, and the materials and design used complement those of your home.
It's best to collaborate with a builder/designer to define the scope of the project and any Building Code requirements, such as fire separation and ventilation. As for appearance, the designer can help sketch out exterior views so you can compare costs with your general contractor.
Special attention will need to be paid to the front doors – you will need to frame the existing carport structure and ensure there is sufficient headroom above the opening for the track, springs, etc., and side room for the track. Headroom can be as little as 12″ for standard lift track, but you may need more if you're intending to motorize the doors.
Here's a video showing the principles of converting a carport into a garage:
Do You Need Permission for a Carport in Front of a Garage?
You may need permission for a carport in front of a garage, depending on the carport detail and the local building and design codes. You will need to check with your local authority, but in general temporary carports are unlikely to need a building permit application, and permanent carports may need permission if they exceed a certain height and are located in front of your home's building line. But do check before construction starts to avoid any penalties and delays.
We've covered this in more detail here, but essentially you need to check with your local building authority what the regulations are, as they differ in detail between areas.
In the US, building and design codes regulate development. In general, building codes are designed to protect public safety and regulate the appearance of developments. Codes exist at State, City, and town level, and even at the level of the Homeowners Association (HOA) if you live within their jurisdiction. Some HOA's don't allow carports at all in front yards.
In the UK, no part of the carport can be in front of the principal or side elevation of the original house that faces onto a road and the carport structure needs to be a maximum height of four meters in order to avoid applying for planning permission. You will have to get listed building consent if your home is of designated historic importance.
If you're having your carport built by a contractor, you may be wise not to rely on the contractor understanding and obtaining the necessary permissions, unless it is specifically stated in their contracts. You'd be better off doing a bit of homework yourself.
Are There Any Alternatives to Building a Carport in Front of a Garage?
Yes, you could erect a temporary carport, consisting of a tubular steel frame with a polyethylene cover, for the worst of winter weather, and dismantle it during the summer. If you live in the southern states, you may want to keep it up all year round (as many do) to protect your vehicle from UV rays in strong sunshine.
As a minimum, you could fix a pull-out self-supporting shade to the face of the garage for temporary shade/shelter.
Final Thoughts
So, we hope that's given you some things to think about before you go ahead with your project to erect a carport in front of a garage. If you want to go for a temporary solution whilst you think about something more permanent, have a look at our portable carprot buyers guide.