By the way… any links on this page that lead to products on Amazon and other companies are affiliate links and I earn a commission if you make a purchase. Thanks in advance for your support!
If you want to know what's better – garage vs covered parking – then here we will discuss both of them, providing the pros and cons so that you can decide which of these parking options is best for you. Read on until the end to get an idea of what might be a better alternative.
Generally, a garage provides a secure, weatherproof shelter for your car which can also be used for other purposes, such as storage, workshop, and even a gym. On the other hand, covered parking does provide some shelter for your car but is much cheaper and can be portable.
Read on below to find out more.
What Is a Garage?
A garage is an enclosed area, with walls, a roof, and a door or doors that houses vehicles. A garage is often attached to a house, but it can be freestanding. It usually has its own entrance.
It can be built from a variety of materials, including brick for the walls, and tiles for the roof. Cheaper parking garage builds include plastic siding and felt for the roofs.
In modern times, garages are becoming less common because people prefer to park their cars outside and use the space freed up for other things. Alternatively, garages are being used for activities other than parking cars, such as storage or even as home gyms.
There are various types of garages, depending on whether they are heated or cooled, and if they are built above ground or underground. Some buildings also include a basement parking facility known as a garage.
In considering garage vs covered parking, think about how important those aspects of garage parking are to you.
What is Covered Parking?
Covered parking is often a type of parking lot where cars are parked under a roof. The parking spaces are usually arranged in rows and are separated by walls. There is no need to open the door to enter the car parking. These are usually in apartment buildings, on the ground or basement floor, and are protected by some form of barrier to entry. Covered parking can also refer to a carport.
Covered parking lots are typically found near office parks, shopping malls, airports, train stations, and bus stops. These parking facilities offer convenient access to public transportation and allow drivers to leave their cars while they go inside.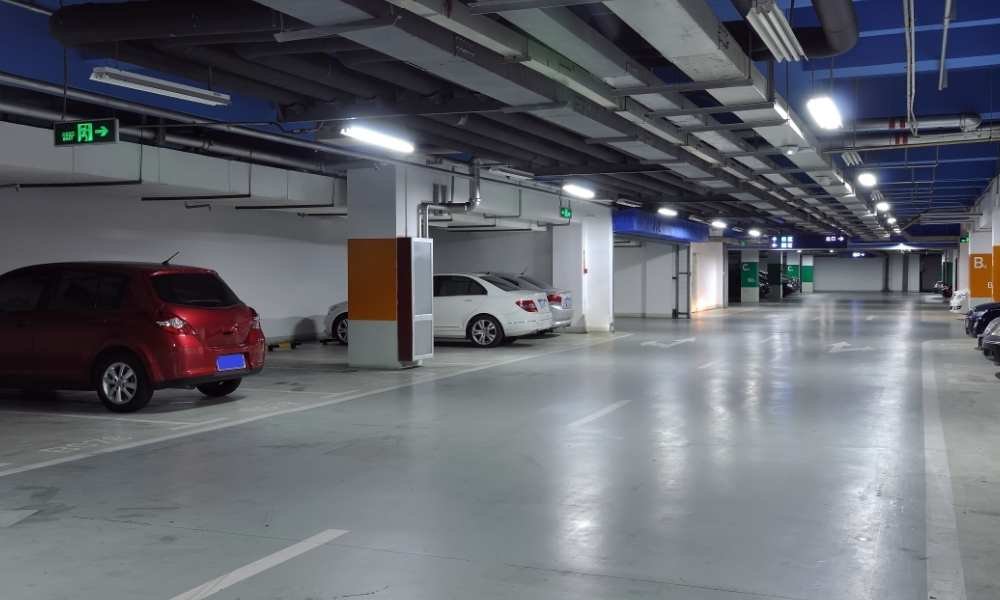 Some covered parking facilities are equipped with surveillance cameras to help keep track of who enters and exits the parking lot. This allows security guards to monitor suspicious activity.
If you are considering parking your car in a parking garage remote from your home, check out the parking rates. An hourly rate, as opposed to one on a monthly basis, could turn out very expensive.
Alternatively, private covered parking can take the form of a carport in the drive of a house. 
It is important to note that the term "covered" refers to the roof of the parking lot, not the actual vehicle. Cars are still exposed to the elements.
What Is a Carport?
A carport is a structure that typically covers an area of the driveway to store your car. It can be permanent, constructed of brick, sidings, or steel, or temporary, consisting of lightweight alloy or steel poles and an artificial fabric covering.
We've included it here because it is a form of covered parking, and if you're considering the merits of garage vs covered parking, you may want to think about if this might be suitable for you. Read more about permits for carports here.
Why Is Covered Parking Important?
Covered car parking – whether you're talking about parking your car in a garage next to your home, or in any form of covered parking away from your home – is important to protect your car from bad weather and maintain its value. It will also make it more secure when compared to parking it on the street.  
It will save your car's paintwork from rain, snow, bird droppings, and harmful UV light.   You can get covered parking in a number of ways. The best way is in a garage next to your home. Alternatively, you could get a portable garage or a carport to put in your drive. Covered parking can also be found away from your home in a parking lot.
What is Stilt Parking?
Wherever there is a shortage of land, developers often build parking spaces either in the basement or the ground floor of apartment buildings. The floors above are therefore built on "stilts". 
This is a common form of covered parking in urban settings. If you live in the apartments above, this may be a preferable form of parking your car compared to on the street.
So what are the relative merits of garage vs covered parking?
Garage Pros and Cons
Pros:
1. Keeps your car secure
2. Protects your car from the weather
3. Stores your car in a convenient parking location.
4. Provides easy access to your driveway.
5. Can be an efficient use of space.
6. Can also be used for storage, bikes, tools, etc.
7. A garage provides another "room" for a home gym or socializing.
8. It will add value to your home.
9. It's convenient and safe – usually next to your home.
10. It would allow you to store things in your car securely.
11. You could work on your car.
12.  You'll avoid extra parking fees.
13. It will be easier – and probably cheaper – to re-charge your electric vehicle in overnight parking on your own premises.
Cons:
1. It can be expensive.
2. It will take some time to build.
3. You won't be able to take it with you, unlike a portable garage.
4. It takes up garden space.
Covered Parking – Pros and Cons
Pros
1. Cheaper (though over time extra parking fees may mount up).
2. Can be immediately available.
3. With a portable carport, you could get the best of both worlds – cheap, easy, and quick to erect, and you could take it with you. 
4. With covered parking in your drive, eg with a carport or portable garage, you could use the space for other activities, for example, a home gym.
Cons
1. Can be inconvenient if the covered parking is some distance from your home.
2. Could be expensive over the long run with fees based on hourly parking.
3. For distant covered parking, it will be difficult to work on your car.
4. You won't have extra room for storage or other uses with remote-covered parking.
5. Less secure for your car, in terms of theft and damage.
6. Ensure the height of the covered parking suits your vehicle – some parking lots have a maximum height of 7 ft.
7. There may not be parking available when you want it.
Final Thoughts
In short, garage parking can be more expensive than covered parking in the short term. However, in the longer term, it may be better value as it will add value to your home. Furthermore, garage parking is safer, more secure, and more convenient, and will give you options in terms of alternative uses. Both options are great, but if you plan on keeping your vehicle long-term, garage parking may be a better bet.
We've considered the pros and cons of garages, but perhaps the biggest disadvantage of having your own private garage built in your driveway is the cost. We've looked at a cheaper solution – a portable garage – which can be a great way of getting the advantages of a garage without the high costs. Check out our portable garage buyers' guide.
If you're at all unsure, you may go for a compromise – a carport. This will give you the benefits of covered parking, conveniently close to your home, at a much lower cost than a garage. Check out our post on whether a carport will add value to your home, here, and see our heavy-duty carport buyers guide for tips on making the right purchase.